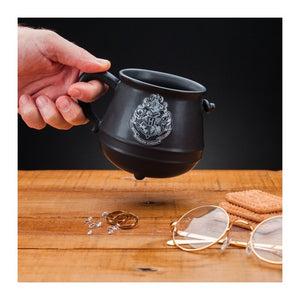 Harry Potter Cauldron Mug
Regular price
$17.95
$0.00
Unit price
per
Brew up your favorite drink with a Harry Potter-themed Cauldron Mug!
An all-black drinking mug shaped like a witch's cauldron, the Cauldron Mug is perfect for enjoying a tea break after a long morning studying witchcraft and wizardry at Hogwarts.
This dolomite mug with handle is inspired by the Wizarding World of Harry Potter, where cauldrons are often used for brewing and mixing potions, and features the Hogwarts school crest – making it an excellent piece of Potter memorabilia.
First published in 1997, J.K. Rowling's bestselling series of novels following the magical adventures of Harry Potter, Ron Weasley, and Hermione Granger has since become a cultural phenomenon. A huge success in novel form, the world of witchcraft and wizardry was then given big-screen treatment in 2001, launching one of the most successful blockbuster film franchises in cinema history. Harry Potter is instantly recognizable to millions of people across the world and is hugely popular among fans of all ages.
A great gift for Harry Potter fans, the Cauldron Mug is an officially licensed Harry Potter product.
---